Scientific Research on Maharishi Ayurveda
Introduction and Overview of Research
Maharishi Ayurveda is a thorough and comprehensive revival of Ayurveda, the world's most ancient and complete system of natural health care. Maharishi Ayurveda was introduced in 1980 by Maharishi Mahesh Yogi, the founder of Transcendental Meditation, in collaboration with India's leading Ayur-Vedic physicians and scholars [1-3].
Maharishi's Vedic Approach to Health is the name given to the integrated system of health care that includes both Transcendental Meditation and Maharishi Ayurveda, as parts of a spectrum of approaches to improving health and well-being.
This section summarizes results of scientific research on Maharishi Ayurveda. Part I presents results of scientific Research on Transcendental Meditation.
The goal of Maharishi Ayurveda is to restore physiological balance by enlivening the inner intelligence of the body, which underlies and governs its material structures and functions.
Knowledge of the body's inner intelligence is available in the Veda and Vedic literature, as brought to light by Maharishi over the past 40 years. Based on Maharishi's work in the field of consciousness, recent research by Tony Nader MD PhD has demonstrated that the patterns of intelligence contained in the Veda and Vedic Literature correspond precisely to the structures and functions of the human physiology identified by modern science [3]. According to the principles of Maharishi Ayurveda, enlivenment of the body's inner intelligence ensures that its innate capacity for balance, self-repair, and resistance to disorder can be harnessed to the full.
The methods of Maharishi's Vedic Approach to Health include:
techniques for the full development of consciousness, including Transcendental Meditation (please refer to Scientific Research on Transcendental Meditation).
balanced diet according to individual need, with emphasis on promoting optimal digestion and metabolism of food;
natural herbal preparations, which are designed to promote balance and enhance natural healing processes without creating side-effects;
physiological purification procedures;
self pulse reading—a simple procedure for assessing the degree of balance or imbalance in the physiology, thereby allowing timely adjustment of diet and behaviour in order to prevent disorder;
behavioural measures, including guidelines for health-promoting daily and seasonal routines;
suitable exercise according to individual need;
programmes to reduce collective stress and improve the collective health of society as a whole;
architectural and planning measures which ensure that the orientation and design of homes, work premises, and communities are in tune with Natural Law and therefore do not generate imbalance and disease;
measures to ensure that individual health is supported by natural cycles in the universe.
These methods are discussed in detail in the book Contemporary Ayurveda — Medicine and Research in Maharishi Ayurveda [1].
Below is an overview of the research done on Maharishi Ayurveda products and treatments. A more detailed summary of each of the individual research papers is available as a PDF download (21MB).
REDUCED HEALTH CARE REQUIREMENTS AND COSTS
A recent study compared health care requirements and costs over a four year period for 693 individuals using Maharishi's Vedic Approach to Health (Maharishi Ayurveda) in comparison to 4,148 matched control subjects Total medical expenditure per capita was 59% lower for the group using Maharishi's Vedic Approach to Health, with lower health care utilization and costs across all age groups and for all disease categories. Compared to the control group, hospital admission rates for subjects using Maharishi's Vedic Approach to Health were 11.4 times lower for cardiovascular disease, 3.3 times lower for cancer, and 6.7 times lower for mental health and substance abuse. The greatest reductions were seen in patients over 45 years, who had 88% fewer patient days in hospital than controls [4].
TRANSCENDENTAL MEDITATION
Extensive scientific research conducted at over 200 independent universities and research institutions has demonstrated that regular practice of Transcendental Meditation has multiple benefits for health, including: reduced requirements for medical care and reduced health care costs; reduction of major risk factors for heart disease; decreased smoking and reduced use of alcohol and non-prescribed drugs; improvement in hypertension, angina pectoris, asthma, insomnia, and post-traumatic stress disorder; slowing or reversal of deleterious effects of ageing; improved health, well-being, and longevity in elderly people; comprehensive improvements in mental health including decreases in anxiety, depression, hostility, and emotional instability, and growth of creativity, intelligence, and positive personality characteristics; increased job satisfaction and improved work performance; better relationships [5-20].
These findings are summarised on the Research on TM page.
HERBAL PREPARATIONS
Herbal preparations known as Maharishi Ayurveda Rasayanas have become the focus of increasing scientific scrutiny in recent years, with research conducted at a number of universities in the United States, Japan and India. According to the classical Ayur-Vedic texts, these preparations are formulated to strengthen resistance to disease and prevent ageing. Research has focused particularly on two compounds commonly recommended for their general preventive and health-promoting effects, known as Maharishi Amrit Kalash [M-4 and M-5], although other Maharishi Ayurveda preparations have also been studied [2].
1. Laboratory Studies
A. Free Radical Scavenging
Particular interest has centred on the ability of Maharishi Ayurveda Rasayanas to scavenge free radicals — small, highly reactive molecules or molecular fragments which can powerfully oxidize and damage vital biomolecules, injuring tissues and disrupting physiological repair mechanisms. Free radicals play a central role in the ageing process and in many diseases, including coronary heart disease, cancer, Alzheimer's disease, diabetes mellitus, and inflammatory conditions such as rheumatoid arthritis [21].
Research has shown that Maharishi Ayurveda Rasayanas (including M-4, M-5, MA-631, and MA Students Rasayana) provide exceptionally powerful protection against both free radicals and non-radical oxidants, including highly effective scavenging of lipid peroxides, which play a key role in the cascade of destruction caused by free radicals [22-34] (see chart).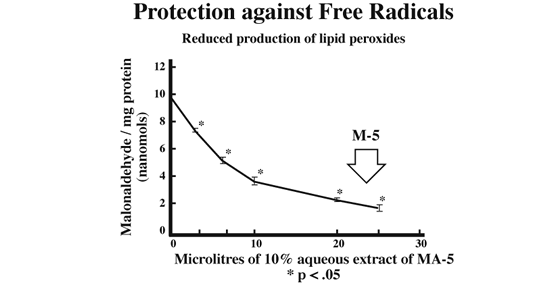 B. Cardiovascular Research
Free radicals play an important role in the causation of coronary heart disease and other cardiovascular disorders. In particular, free radicals oxidize cholesterol and other fats to form oxidized low density lipoprotein [LDL], which then accumulates in damaged arterial walls. In one study, four different Maharishi Ayurveda Rasayanas (M-4, M-5, MA-631, and MA Coffee Substitute) were each hundreds or thousands of times more powerful in preventing oxidation of LDL than other known anti-oxidants, including vitamins C and E [24, 29].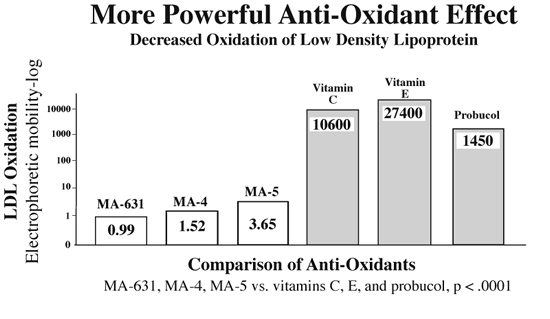 More recently, reduced LDL oxidation has been demonstrated in a clinical research study on people with elevated blood cholesterol levels (please refer to section below on clinical research) [33].
A Maharishi Ayurveda compound (M-5) has been found to prevent the aggregation of human blood platelets in response to four different stimuli. Platelet aggregation contributes to both atherosclerosis and thrombosis—the principal mechanisms leading to coronary heart disease, myocardial infarction (heart attack), and various other cardiovascular disorders [35].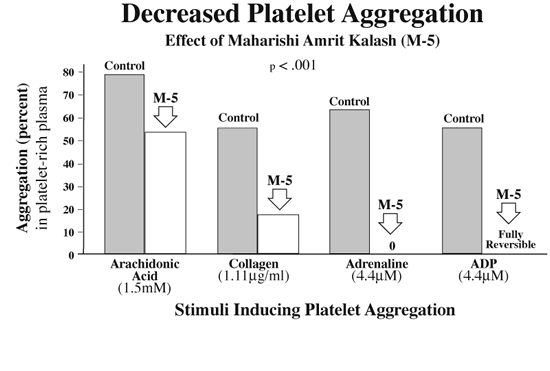 Another study found that addition of a Maharishi Ayurveda herbal preparation (M-4) to the diet led to a 50 percent reduction in coronary artery atherosclerosis in Watanabe rabbits, a species that is genetically highly susceptible to this disorder [36, 37].
A clinical pilot study found improvements in patients with angina pectoris (chest pain due to heart disease) who took two Maharishi Ayurveda Rasayanas (M-4 and M-5) (please refer to section below on clinical research) [38].
C. Prevention of Chemical Toxicity
Maharishi Ayurveda herbal compounds (M-4, M-5, MA Students Rasayana) have been found to protect against tissue damage caused by the solvent toluene (a potent inducer of free radicals and a serious industrial health risk). M-4 and M-5 also decreased toxicity due to adriamycin (a drug commonly used in the treatment of cancer, which is a powerful generator of free radicals) [22, 25, 31, 32]. Addition of Maharishi Ayurveda Rasayanas to the diet led to increased survival rate in animals receiving adriamycin over a four week period [22].
M-4 has also been found to enhance the glutathione anti-oxidant system, a vital natural defence against toxins, and to prevent damage to this system induced by the cancer drug cisplatin [39].
D. Research on Cancer Prevention
A number of studies have found that the Maharishi Ayurveda compounds M-4 and M-5 reduce the development, growth, spread, and mortality of cancer in laboratory animals [40-43].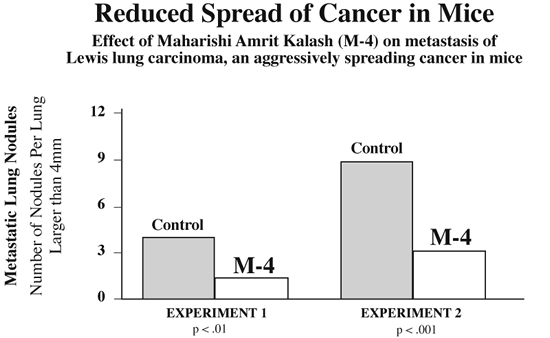 Moreover, in one study M-5 induced both morphological and biochemical differentiation of mouse neuroblastoma cells in culture (thus promoting transformation of abnormal tumour cells towards normal, mature nerve cells) [44].
E. Immunological Research
Maharishi Ayurveda Rasayanas (M-4 and M-5) have been found to enhance the response to foreign antigens of two types of cell that are fundamental to the immune system, without affecting their properties when not challenged. T-lymphocytes showed enhanced proliferation in response to mitogens together with increased production of interleukin-2, an immunomodulator which plays a central role in immune responses. Macrophages showed increased efficiency in killing tumor cells and enhanced production of nitric oxide, which is used to kill bacteria and cancer cells [45-49].
2. Clinical Research
An uncontrolled clinical pilot study examined the effects of Maharishi Ayurveda herbal preparations and other aspects of Maharishi Ayurveda in 126 patients suffering from one of ten common chronic disorders [asthma, chronic bronchitis, rheumatoid arthritis, chronic constipation, eczema, psoriasis, hypertension, non-insulin-dependent diabetes, chronic sinusitis, chronic headaches].
The average duration of these disorders was more than 17 years. After three months of Maharishi Ayurveda treatment, 79% of patients showed clear-cut improvements [50].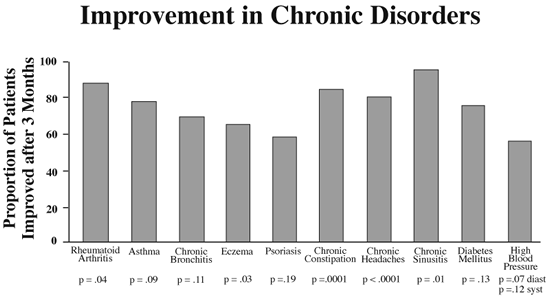 A controlled prospective study of Maharishi Ayurveda herbal preparations (M-4 and M-5) in patients receiving multi-drug chemotherapy for cancer found a reduced incidence of vomiting and diarrhoea, and improved sleep, weight, and overall well-being compared to control patients. Patients also showed reduced free radical activity (as shown by decreased lipid peroxide levels) and less haematological toxicity, indicated by maintenance of higher white blood cell and platelets counts compared to controls [51].
In another clinical pilot study, patients with angina pectoris (chest pain due to heart disease) who took two Maharishi Ayurveda Rasayanas (M-4 and M-5) showed significant reductions in the frequency of chest pain and need for sublingual anti-anginal medication, as well as increased well-being [38].
More recently, M-4 has been shown to prevent LDL oxidation in people with elevated blood cholesterol levels (oxidation of LDL plays in important role in the development of atherosclerosis, especially in those with raised cholesterol) [33].
A pilot trial of a Maharishi Ayurveda compound (MA-471) traditionally purported to have anti-diabetic properties found improved blood sugar control and reduced symptoms in patients with non-insulin dependent diabetes mellitus [2].
3. Research on Cognitive Performance and Perception
A randomized placebo-controlled trial found that a Maharishi Ayurveda Rasayana traditionally recommended for students led to increased growth of intelligence quotient (IQ) in school children over a five month period [52]. Laboratory studies have shown that this compound prevents free radical damage to brain tissue and promotes a biochemical pathway thought to be important for learning and memory [26, 53].
Another randomized placebo-controlled trial found that the herbal preparation Maharishi Amrit Kalash improved performance on a complex measure of visual information processing that is known to deteriorate with ageing [54]. This effect might be mediated by the free radical scavenging properties of this preparation (discussed above) or via interactions with specific neurohormone systems in the brain [55].
PHYSIOLOGICAL PURIFICATION THERAPIES
Research on the Maharishi Ayurveda Physiological Purification Programme has demonstrated benefits for general health and well-being, mental health, and perception, and reductions in cardiovascular risk factors. In one study, subjects who underwent this treatment showed improvements in well-being, energy, stamina, appetite and digestion, and increased feelings of youthfulness compared to control subjects who received only health education over the same time period. In a second study of similar design, subjects who received treatment showed reductions in anxiety, depression and fatigue, and an increase in vigour compared to controls [56]. Another investigation found increased speed of visual information processing [57].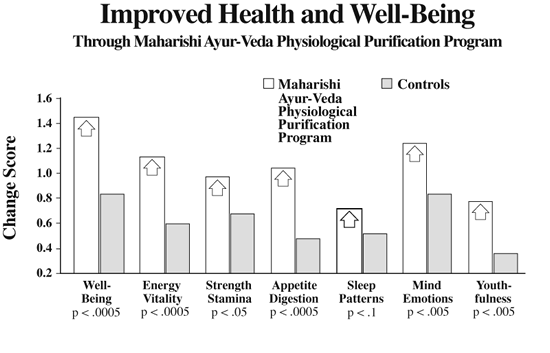 The Maharishi Ayurveda Physiological Purification Programme has also been found to reduce risk factors for coronary artery disease, including reduced serum cholesterol and increased HDL cholesterol (which has a protective effect), reduced lipid peroxides, increased levels of vasoactive intestinal peptide (which dilates coronary arteries), and reductions in pulse rate, diastolic blood pressure, and anxiety [58]. Another study found reduced cholesterol levels and increased emotional stability as a result of treatment [59].
A model has been developed to explain how these purification procedures may produce their effects by removing toxins from the body [60].
VEDIC SOUNDS
Vedic sounds (Sama Veda) have been found to decrease the growth of cancer cells lines in the laboratory compared to a control condition, in contrast to the effect of 'hard rock' music which tended to increase growth [61].
COLLECTIVE HEALTH
Maharishi's Vedic Approach to Health recognises that individual health cannot be divorced from the collective health of society. More than 40 well-controlled studies have now shown that about 1% of the population of a community practising Transcendental Meditation, or an even smaller fraction practising the advanced TM-Sidhi programme, can lead to reduction of negative tendencies (such as violence, crime, accidents, disease, and suicides) and improvement in positive trends (such as economic prosperity) for the whole society [62-75].
Researchers have named this phenomenon the Maharishi Effect, as it was predicted by Maharishi in 1960. Decreased crime rate in the Merseyside region has been demonstrated as a result of this effect [74].
In a published study, a well-designed prospective experiment demonstrated a 23% reduction in violent crime in Washington DC as a result of the Maharishi Effect — a result confirmed by a panel of independent experts [75].
Reduction in crime and other improvements in the quality of life in society have direct benefits for the individual by reducing collective stress and social disharmony, both of which are known to be major factors influencing health standards in the general population.